Launching soon!
Prosperity Plus ll Instructor and Student packages
will be available as a digital download.
PROSPERITY PLUS II
Harnessing Your Invisible Power
If you missed the call announcing Prosperity Plus II, you can listen to the teleclass with Mary Morrissey and Colleen Schuerlein here:
Be sure to listen right away to learn about a special bonus for you that expires soon!
As one of our beloved Prosperity Plus Program participants, we are thrilled to announce, by popular demand, the official release of Prosperity Plus II, Harnessing Your Invisible Power!
Like the first program, Prosperity Plus II is taught "virtually" by Mary Morrissey and is some of her best work in 30 years! This program is full of ALL NEW, fresh, highly transformational curriculum, designed to take your life and church to even greater heights!
"I've been a student of Mary's brilliant teaching for a long time now, and this is the best I've ever seen!"
~ Pam Sterling, Thousand Oaks, CA
In This Program You Will Receive
Order Now - Shipping Begins December 18, 2013!
Instructor's Package:
Complete with 10 program DVD's and instructor's guidebook (PLUS, one full participant package with 10 CD's and a participant guidebook) - $79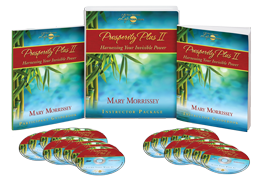 Prosperity Plus II Participant Guide Book
Additional student guide book for people who take the course with a friend or loved one - $15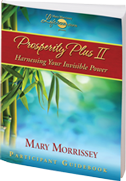 Marketing Materials:
Professional marketing materials to promote the course include:
Gorgeously designed fliers and posters
A highly effective e-mail campaign
Pre-written powerful pulpit announcements
A pulpit video invitation by Mary Morrissey to make it super-easy to invite participation from your congregation if you use video power point during service
Attractive bulletin blurbs, and more!
Included is thousands of dollars worth of marketing materials, copy writing, graphic design excellence, and expert sales & enrollment strategy.
How Do I Get Started?
It's Easy!
Step 1) Simply click the button below to order your Instructor Package.

Step 2) Simply click the button below to order additional participant packages and additional participant guide books.


Step 3) You can begin to market your class in December.
~~~~~~~~~~~~~~~~~~~~~~~~~~~~~~~~~~~~~~~~~~~~~~~~~~~~~~~~~~~~~~~~~~~~~~~~~~~~~~~~~
Circulation Agreement: Just like Prosperity Plus I, your church agrees to tithe 10% each week to LSTW Management, LLC based on the total amount tithed to your church by the participants during the Prosperity Plus II Program.
For Prosperity Plus Program questions and support,
please contact:
Rev. Colleen Schuerlein
Ministries Program Director
prosperity@marymorrissey.com
Mobile 503-860-2049
Business 503-922-3460