If 26 Regular, Everyday People Offered to Tell You How They'd Amplified Their Abundance in All Areas of Their Lives…
Would You Want to Hear What They Had to Say?
If you're teaching Mary Morrissey's Prosperity Plus™ program at your church or online, this book is a great promotional tool for encouraging your congregants to sign up for your class!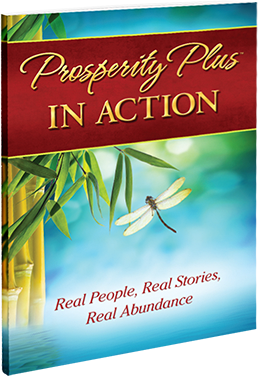 Prosperity Plus In Action
Real People, Real Stories, Real Abundance
26 inspiring, heartwarming stories of regular, everyday people who embarked on a 10-week adventure, applying the Universal Laws of Success to their lives – and the extraordinary results they created!
These proven transformational principles are found in Mary Morrissey's 10-week Prosperity Plus™ Program that's already impacted the lives of 24,000+ people worldwide.
If you would like the opportunity to transform your life, like the people you'll read about in Prosperity In Action, request more information about the 10-week tithing-based Prosperity Plus Program by emailing prosperity@marymorrissey.com.
This Life-Transforming Book is for YOU If...
You often worry about your money situation

– You have a big expense on the horizon and you're not sure where the money is going to come from. Or you've been earning roughly the same amount of money for years, and you're ready to finally BREAK FREE from this pattern.

Your love life isn't where you'd love for it to be

– You want to meet your soulmate, but that person doesn't seem to be manifesting! Or you want to take your current relationship to the next level, but you're not sure how to go from where you are to where you'd love to be.

You don't feel good in your body

– You're dealing with a chronic health issue that makes it difficult for you to do what you'd truly love to be doing, and you're not sure how to shift this. Or, you actually feel pretty healthy, but know that there's still a lot more energy, vitality and ALIVENESS you could be feeling.

You don't feel fulfilled by the work you're doing

– You go to work each day and wonder where the meaning is. You want to put your time and talent into something that makes you come ALIVE! Or, you like what you do, but you're tired of working for someone else and you want to make a change.

You've been putting your dreams on the backburner

– You'd love to start a business, spend more time with your loved ones, take a long sabbatical and travel the world, or become a philanthropist... but you feel like don't have the time or money to pursue any of these dreams right now.
Here's What You'll Discover Inside This Simple But Powerful Spiritual Text:
$2,000 cash, two airline tickets and a surprise pension

– How Sharon L. from Houston, Texas won $2,000 cash, a raffle for two first class airline tickets to anywhere in the U.S., and was notified she's entitled to an extra pension from an old employer from years before… and all within just 10 weeks!

The bathroom remodel that was paid for by Spirit:

After being told his dream bathroom would cost him $20,000+, Theo T. called on help from the Universe, and the Universe answered! The final cost of the renovation? Just $500! "It seems almost impossible when I reflect on it. Feeling very blessed!"

The exact steps that Kristy N. from Longwood, Florida followed to call in the relationship of her dreams

, faster and easier than she ever imagined possible. "We both knew we loved and adored each other since date #2... I can state with 100% certainty that I have clearly found my soulmate!"

How to be abundantly paid to do what you love, at any age:

After reconnecting with his passion for playing the saxophone, Paul S. from Tacoma, Washington retired from his day job, and now performs full-time with the world's top musicians… all while providing a truly abundant life for his family.

Uplevel your health and pursue your dreams:

The story of Linda M. from Fort Collins, Colorado, who went from not being fit enough to walk long distances, to hiking Spain's Camino de Santiago pilgrimage route just 11 months later. "I find myself about to embark on the adventure of my life!"

How to dust off and resurrect an old dream:

After toying with the idea of downsizing and traveling for years, Carol T. from Fort Collins, Colorado decided her time was NOW. She listed her home, sold it within just 48 hours, bought an RV, and hit the road to travel the U.S. "Everything's coming together perfectly!"

Create a business and a life you love:

At 53 years young, Bahni C. from Redding, California found herself in new territory – her grown children flew the nest, and her marriage ended. Listening to her calling to become a life coach, she now earns an abundant income making a difference in the lives of others!
Plus much, much more!
Imagine What Life Will Look and Feel Like, Once You Discover How to Open Yourself to All of the Abundance That's Truly Available to You...
Imagine having the freedom and flexibility to do what you want to do, go where you want to go, and give what you'd truly love to give.
You take that trip you've been longing to take, write that book you've always dreamed of, help that struggling friend or family member, or give to that charitable cause that speaks to your heart…
And as you lay your head on your pillow each night, you feel secure in the knowledge that you and your loved ones are provided for.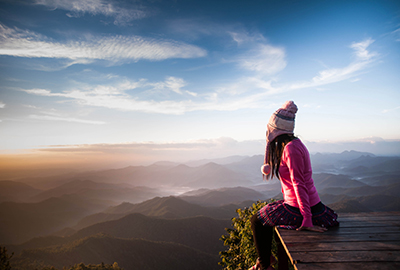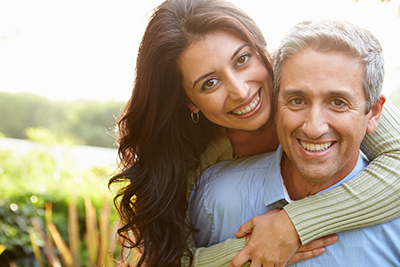 Imagine having a true partner in life, someone who understands you and supports you like no other.
Or, if you're already in a relationship, imagine you feel more connection, and a deeper passion than ever before!
Imagine being surrounded by a close-knit group of friends, family members and colleagues who love you, and encourage you to be your happiest and most authentic self.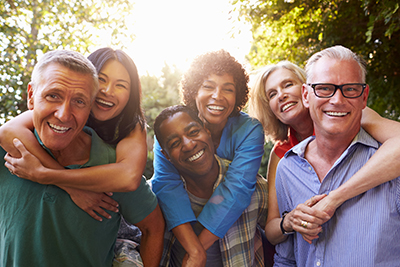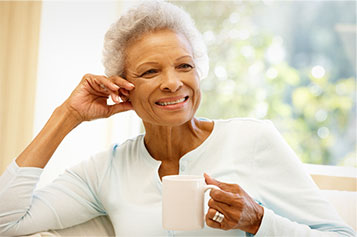 Imagine waking up each day feeling rested and rejuvenated, filled with vibrant energy and vitality. You feel a deep sense of gratitude for your body, and confident in your own skin.
Imagine doing work that leaves you feeling purposeful, inspired and invigorated. Perhaps you find your dream job that fills your heart and gives you the abundance you've always dreamed of, or start that business or charity that you've always dreamed of!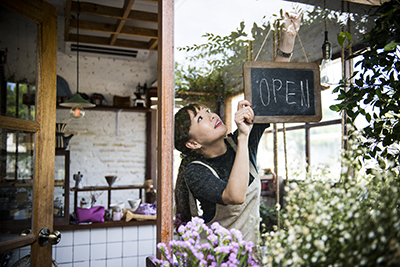 The lives of those around you, your children, grandchildren, friends and family, would also begin to transform...
As they see you living from the overflow, they'd begin shifting to a more abundant way of thinking and being as well without even consciously realizing it, just by their close proximity to YOU.
This is the quality of life that becomes available to you once you discover how to make welcome all of the golden opportunities, positively-charged people and other good things that the Universe seeks to send into your life…
And this is what you'll begin to discover how to do inside Prosperity Plus In Action!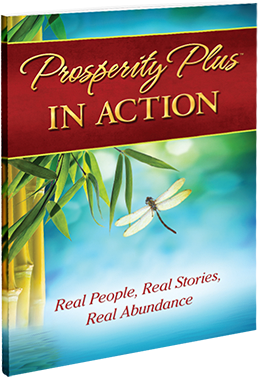 ABOUT THE CO-CREATORS OF THIS BOOK:
Rev. Colleen Schuerlein is the Prosperity Plus Ministries Program Director for Mary Morrissey's company, LifeSOULutions That Work®, LLC.
An author, coach and consultant, Colleen has a lifetime of experience connecting community, and growing volunteer programs.
Rev. Sandy Diamond is a writer and a psychotherapist in the Chicago area.
The author of many articles and interviews published in Unity Leaders Journal, Rev. Sandy has also published academic psychology essays with Cengage Learning as a Gale Researcher.